What will my candidate profile look like?
Your profile will provide productions or other casting agencies with tailored information to fit the needs of a specific casting. Your candidate profile will demonstrate your appearance, skills and experience. The extent of your profile is determined by the package of your registration. Your profile will contain the most information if you choose to register using the ultimate registration package.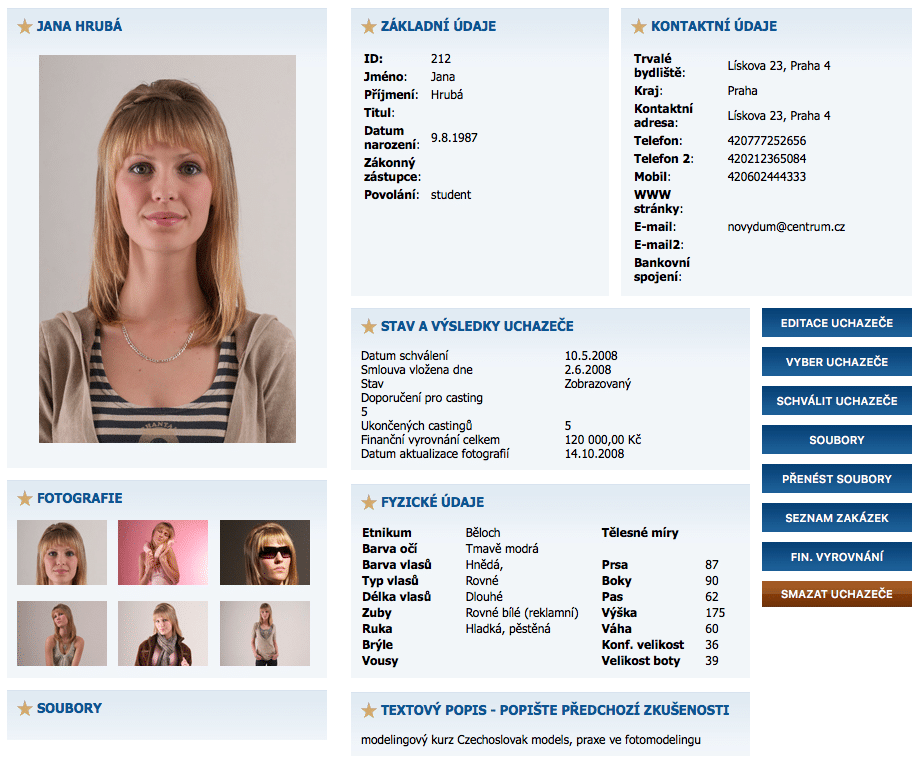 How often and why update my candidate profile information?
The card must be updated at least once a year and at least every six months for children under six years of age. If we are to successfully represent you, all information on the card must be up to date. In particular, we need to know your current email and phone number and the photograph on the card must match your current appearance (e.g. be aware of changes in hair length and colour!). Updates can be made online. Email info@castingcentrum.cz for access details. If you do not make the update in the long term despite our request, we may withdraw from the contract and stop representing you as your agency.
Am I obliged to take part in every casting that the agency offers me?
Of course, you do not have a direct obligation to participate in any castings offered to you and you can refuse to participate in any at any time. Nor are you obliged to respond to the offer. However, if you already accept the Agency's offer, you are obliged under the Agreement to properly execute and complete the activities that will be the subject of such offer.
Why is it better to have professional photos in your candidate profile?
Professional photos are the key to a successful candidate presentation in this field. There is a clear distinction between professional and holiday photos.
I have been registered for a long time and I still have not received any offer, why?
You definitely don't have to worry about not being treated fair! The offers depend on the current demand of production and casting agencies. We work with your candidate profile without you even knowing it. Whenever there is an option we send profile offers to producers. If you haven't received any casting offers for a long time, we're sorry, but you probably didn't meet the demanded criteria. Anyway, you can contact our agency at any time and we will be happy to answer any of your questions.
I took part in a casting and wasn't chosen, why?
In this case, it is likely that some of the other casting participants seemed to be a better fit for the production's demands . It is in the interest of our agency that the candidates registered with us are successful in individual castings and so for those who are just starting out in this field, we offer an acting seminar several times throughout the year.
What is the average fee for a smaller so-called episode role in advertising or film and what are buy-outs?
It is practically impossible to determine the fee amount in advance without a specific quote. The fees depend on many circumstances and usually range from CZK 2,500 to CZK 15,000 / 1 day of shooting.
In addition to this some participants will receive a buy-out fee. A buy- out is essentially a fee for the right to use your face to present a product. So if your face in a ad, clip or movie is recognisable, you will be paid a buy-out. This in some cases represents a significantly higher sum than what you receive for the actual filming day.
Eg: 5.000, - CZK / 1 day of shooting. Buy-out can be 50.000, - CZK / 1 year use.